James W. Gilliam
abt 1829 - 24 Jan 1863
James Wesley Gilliam is my third great grandfather, the great grandfather of Wilda A. Bowman (my grandmother, who passed away just last year). Wilda's ancestry can be traced back through her mom, Clara Heil (1877-1960) and Clara's mother, Mary Catherine Gilliam (1853-1903) who was one of James' daughters.
James' Life
James Wesley Gilliam was born around 1829 in Carroll County, Indiana to Robert Gilliam (abt 1795 – abt 1839) and Mary Smith (nothing is known about her at this time outside of her name). James had at least one other sibling named Sarah Ann Gilliam (Oct 1826 – 3 Apr 1912). There may have been two other children as well. In 1850, James (age 22) is living and working on the farm of Mr. Jacob Sines (Sarah Ann's husband and their two children, James A., age 4, and Emiline, age 1) in District 9 of Carroll County, Indiana. It appears that James and Sarah's parents have passed away by this time.
On 3 March 1853, James married Elizabeth Snoeberger in Carroll County, Indiana. Elizabeth was from a large extended family of German-Swiss immigrants who originally settled eastern Pennsylvania in the years before the Revolution. Her father was Jacob Eschelman Snoeberger (1804-1851), a descendant of Johannes Schneeberger (1704-1780), a native of Ochlenberg, Switzerland, who arrived in Pennsylvania in 1751. Her mother was Mary Zook (1808-1874) who was a descendant of Ulrich Zug (1659-1747), native of Heidelberg, Baden-Württemberg, arriving in Pennsylvania in 1727.
Together, James and Elizabeth had at least six children. Two (or possibly three) of the children were born in Indiana. The others were born in their new home in Monmouth, Jackson County, Iowa, about half way between Cedar Rapids and the Mississippi River. Mary Catherine Gilliam (1853-1903, my direct ancestor), Harvey (1855-1944), and John Charles (1858-abt 1863) were born in Indiana. Benjamin Franklin (1859-1935), Jennie (1860-1936) and Eliza (1862-1862) were all born in Iowa.
Within three years of settling in their new home, Lincoln was elected President and the southern states began to secede.
War Record
James enlisted on 16 August 1862, fifteen months into the war. He was placed in the 31st Iowa Infantry Regiment , F Company when the unit was organized at Davenport, Iowa on 20 September 1862. The regiment was turned over to Federal service on 13 October 1862. James was 34 years old.
The Thirty-First, under the command of Colonel William Smyth , was initially placed within the 3rd Brigade, 1st Division, District of Eastern Arkansas, Department of Tennessee as it made its way down the Mississippi River. The unit saw very little action until the initial push on Vicksburg.
In December 1862, the Regiment was placed in the 2nd Brigade (under Col. Charles Woods ), in the 1st Division (under Maj. General Frederick Steele ) belonging to Maj. General William T. Sherman 's XV Corps. This was one of five corps comprising Maj. General Ulysses S. Grant 's Army of Tennessee . Between December 26th and 29th , James and the men of the 31st found themselves travelling south against heavy Confederate resistance at the Battle of Chickasaw Bayou . One of 32,000 men, James began to push towards hills overlooking the Yazoo River just north of Vicksburg. On the 28th , James took part in a failed attack across the marshy Mississippi lowlands. Repulsed by Confederate cannon-fire, Union troops retreated. The next day, James' unit was held in reserve while Sherman repeatedly threw men against the heavily fortified Rebel lines. By the end of December 29th , Union commanders realized the futility of the attack and moved back away from Vicksburg.
In January, 1863, James and the 31st Iowa Infantry Regiment took part in the Battle of Arkansas Post . Transported back up the Mississippi, James and his fellow Iowan soldiers found themselves about 15 miles up the Arkansas River, where the Confederates had constructed a fort on the north side of the river. For three days, they marched through the swamps to flank the fort. On January 11th, the 31st was thrown into action and, after a pounding from Union riverboats and the pressure of a sustained infantry attack, the Confederates surrendered.
After the battle, the 31st was sent south to Young's Point, Louisiana. The unit arrived between January 17th and 23rd and remained until April 1863.
Sometime between the Battle of Arkansas Post and relocation in Louisiana, James became ill. James died on January 24th at Vicksburg, Mississippi. Vicksburg was still under Confederate control at that time. This may mean that he had been previously captured and died as a POW or that he died in transit. Further research is necessary to resolve this mystery.
The 31st though went on to see action at Greenville, Black Bayou, Snyder's Bluffs and the taking of Vicksburg. Later, it was engaged at Chattanooga, Lookout Mountain, and Cherokee Station. It was garrisoned in Alabama in early 1864 then took part in Sherman's March, seeing almost continual action until the end of the war when it mustered out on 27 June 1865. Of the 1,177 men who served in the Regiment, only 28 men were killed in action. The bulk of the fatalities were due to disease, 275 in total.
Pension Application: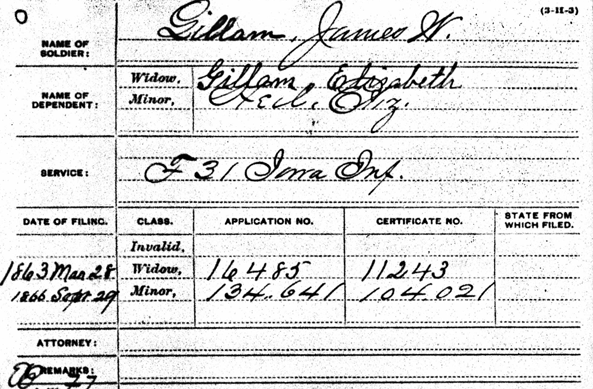 Afterward
1863 must have been a rough year for Elizabeth Gilliam. Not to mention the general unease associated with war—who knew if Rebel raiders might swing into south-eastern Iowa—Elizabeth may well have been left to tend a farm by herself. She lost two children during this time: John Charles who died sometime around 1863 at the age of five and Eliza who may have died in childbirth or shortly thereafter. Elizabeth quickly turned to a neighbor who had recently lost his wife, a recent German immigrant named Philip Heil to start a new family, marrying on 29 June 1864. A pair of step-siblings married and produced my grandmother's mother.